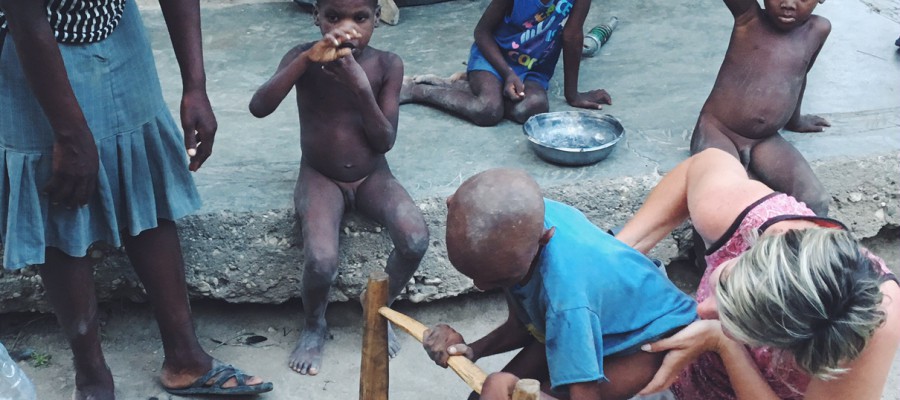 Meet 12 year old, Rockenly. I met him and his mother back in February when I was making a home visit. It was one of those divine appointments. If it were not for visiting a mama nearby, we never would have met.
He was sitting in the dirt, eating a bowl of rice. We gently approached his mother about his condition. I distinctly remember feeling completely helpless. What could we possibly do?
We did the only thing we knew to do. We prayed. We prayed for wisdom, discernment, strength, and doors of opportunity to be opened. We invited his mother to attend church, and departed.
But on the ride home, a flood gate of tears came. Because for the first time leading this ministry, I felt helpless.
But you know what? God spoke to my heart and reminded me, it isn't my burden to carry. Jesus said, "Come to Me, all you who labor and are heavy laden, and I will give you rest. Take My yoke upon you and learn from Me, for I am gently and lowly in heart, and you will find rest for your souls. For My yoke is easy and My burden is light". Matthew 11:28-30
My call is to do what I can. Give what I have and to love well. Most importantly, my purpose is to show the love of Christ so He can do the work. He wants to remove the burden that was never intended. The best part…when we lay it before His feet, it allows Him to "do his thing" and make miracles happen.
Sometimes this work is brutal. There are moments when I feel burdened by real needs for the women and their families.
In the mist of all the overwhelming needs, He is constantly walking alongside me and directing the path. In reality, not matter how divinely He directs me, it will never be enough. But He is enough and MORE!
When I returned to Haiti a few weeks ago, Nurse Rachelle was able to teach his mother some daily exercise/stretches she can do with Rockenly. Nurse Timay and Guiline will also start making weekly home visits, to distribute a weekly supply of Plumpy'Nut (malnutrition supplement), check weight and continue to monitor his exercise progress.
However, one of the highlights of the trip was discovering that Rockenly and his mom have been faithfully attending church each week. My heart nearly BURST! Each week, she takes a moto to the church and carries him into the building. This is what it is all about!!
I find hope and peace in Luke 4:18, "The Spirit of the Lord is on me, because he has anointed me to proclaim good news to the poor. He has sent me to proclaim freedom for the prisoners and recovery of sight for the blind, to set the oppressed free."
Thanks for being part of the call!
Tags: breath of life haiti, global health, Haiti, malnutrition