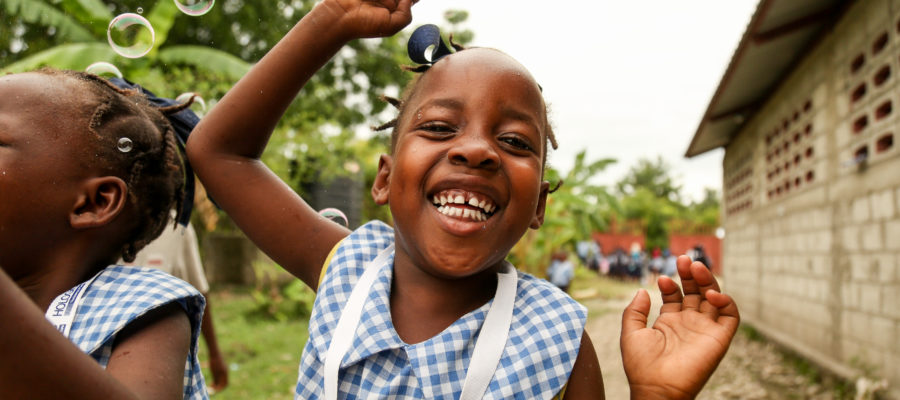 Easter is this weekend, and I can already see children hunting Easter eggs and families gathered at churches across the country to celebrate the gift of the cross and resurrection. In my anticipation and preparation for traveling home, I began to wonder what Easter looked like in Haiti. I began to read, and I found several fun traditions that are common during Easter time in Haiti.
Haitian Easter celebration roots back to both Catholic and Voodoo tradition. Just as evangelicals, they celebrate the resurrection with worship services and personal reflection. Some fun traditions, though, include rara bands and kite flying contests. Rara bands—groups dressed in colorful clothing, dancing and singing in the streets—often form and have processions on Sundays throughout Lent. Some will sing and dance from Good Friday to Easter to top off the celebration. Even those not participating in the rara band come together and rejoice alongside them.
Children are usually free to go outside and play on Good Friday. Because Haitians have an Easter vacation that generally starts one or two weeks before Good Friday, Easter is a much-awaited day. Easter vacation gives the children time to slow down a bit—go on religious retreats and prepare for kite contests. Kite contests are common. Some areas of Haiti even have prizes for the nicest kites or the ones that fly the highest.
What are your Easter traditions? Be thankful for them. Embrace the joy that comes with celebrating our salvation. Nonetheless, remember the true reason for it all:
They found the stone rolled away from the tomb, but when they entered, they did not find the body of the Lord Jesus (Luke 24:2-3).
Praise be to the God and Father of our Lord Jesus Christ! In his great mercy he has given us new birth into a living hope through the resurrection of Jesus Christ from the dead (1 Peter 1:3).
You killed the author of life, but God raised him from the dead (Acts 3:15).
Jesus died for us all. He is the author of life for you, me, and every person in Haiti just the same. Rejoice in the truth of Easter. There is no other truth so worthy of our celebration.
Happy Easter!
Tags: breath of life haiti, easter, easter 2019, education, empowerment, global health, Haiti, international missions, jesus, maternal health, midwifery, midwives, missions, resurrection, serving, when helping hurts