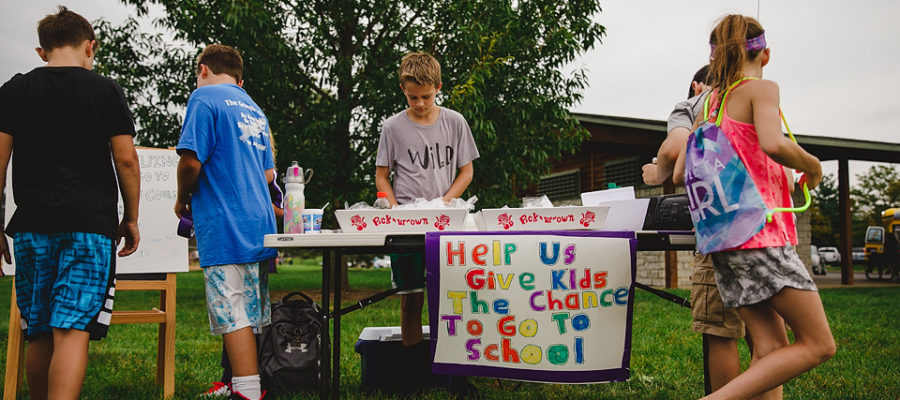 I am in awe that I have the privilege to do this work. Yes, it is hard. Yes, it is exhausting. But, it is rewarding in many ways. I have been given a "front row seat" to watch God do amazing things in the lives of the people of Dèsarmes, Haiti and in the United States.
One of my favorite things is watching our partners fall in love with our mission, the people of Dèsarmes and serving God. A recent team member, Katie B., traveled with us in January. She has been working very hard to advocate for our kindergarten/primary school partnership; trying to find partners for the school.
Recently, Katie's son and his friends, watched a movie called, "Living on One" in Social Studies class. After watching the movie and being inspired, they decided to take action. Knowing that over half the population lives on less than $1 per day, and about 80 percent live on less than $2 per day, the boys decided to try and make a difference. On their own, they formulated a plan to make baked goods and sell the items at a soccer game. Together, they raised $289.75 — enough to provide for one student and a good start to provide for a second!
Why did you want to raise money to educate and feed children in Haiti?
"I was inspired by a video we watched in Social Studies class called, "Living on One". I love helping people that need money to help them live a better life. I wanted to help the kids in Haiti because this money will give them food, water and a better school." -Nick G., 11
What was impactful about the video at school?
"Seeing the kids, how they live everyday and what they are going through. We listened to them talk about what they wanted to be when they grew up." -Garrett B., 11
What was the impression you left with about kids in the video?
"Wow, this kid can survive in these conditions. We take so much for granted and if roles were reversed, could WE exist without all the stuff we have right now? I encourage people to do this because some people's lives are not like ours. I think we should help change lives for the better and try to make things a little better than they were before." -Garrett B, 11
I am so encouraged by the boys and everyone else who has given so far. I know we have been pushing this campaign for the past several weeks, and I'm sure you may be tired of hearing about it. However, we are 30% to our goal, and school begins in merely 4 days!
With that being said, we have a challenge for you! Would anyone be willing to provide the remaining $190.25 to help the boys meet their goal of providing for a second child? Better yet, would anyone be willing to partner with us to help us reach our overall goal? We currently have 47 partners, and need 150.
A recurring monthly amount of $20 or one-time amount of $240 will provide an education and hot meal (daily) for one student. Your partnership will also provide student and teacher/staff uniforms, books, school supplies and bonuses for the teachers/staff.
Would you please consider partnering with us to provide education and food to the children? Giving is simple. To partner, simply click here or on the donation button below.
Just a reminder that *all donations are tax-deductible*. You will be mailed a 2018 tax-deductible receipt by January 31, 2019.
Tags: breath of life, breath of life haiti, education, empowerment, fundraising, Haiti, kids helping kids